Swimming is not only one of the most complete sports you can find, but it is also something basic when it comes to your children's safety and health. You can sign up your kids for swimming lessons throughout the whole year and while it's still warm it is especially enjoyable and helps them to have fun while improving their skills. Keep on reading and find out why swimming lessons in Madrid are a great extra-curricular activity.
Benefits of swimming for children
Improves your health
According to specialists, this sport benefits many parts of the body, since you activate lots of muscles to achieve the different movements. In addition, it is a great way of preventing obesity and activating the circulatory system, among many other benefits.
Develops skills
Swimming helps develop motor skills and increases flexibility, speed, coordination, agility, and balance.
In addition to these benefits, swimming encourages children to socialize while learning. It also empowers them and increases their self-confidence and respect for others.
Where to take lessons?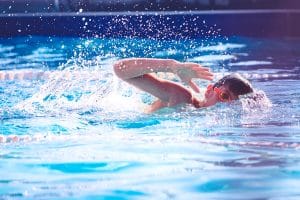 Centro Deportivo el Pilar
This place has a wide offer when it comes to swimming lessons for kids. They have lessons for all ages and levels, and they also offer synchronized swimming, pre-waterpolo, among others. Just in case, they also have swimming lessons for adults, so you can swim yourself while waiting for your children! For more information, visit their website.
Natación Delfín
The centre, launched in 1994, offers all types of swimming lessons both for adults and for children. Some of the courses they offer include lessons for pregnant women, for babies from 5 months onwards and for children of all ages! Check out their website.
Centro Deportivo SMP
Located next to metro Sainz de Baranda, this place offers lessons for babies and for children of all ages and levels, plus a very flexible schedule. Take a look at their website to see which class suits your child's needs most.
Do you have any questions? Don't hesitate to contact us if there's anything we can help you with! Visit our website or contact us through Facebook.