LAE Kids: experts in teaching children online!
LAE Kids offers Spanish Classes for kids in Madrid and Online!
Our Instituto Cervantes-accredited Spanish classes are engaging and dynamic, with teachers that have vast experience in teaching kids online! You and your family can learn about Spanish culture, history, and language from the comfort of your own home with our Madrid-based teachers.
Your child can improve their fluency, get support with school work, or even start learning Spanish from scratch with our interactive platform.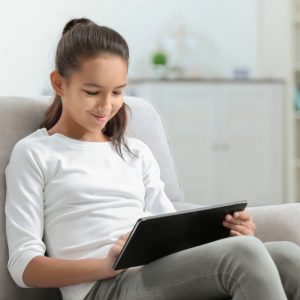 How our Spanish classes for kids work
We offer One-to-One classes that keep children excited and motivated, with regular changes in activities to help them maintain focus. We know that every child is different and requires a personally-tailored learning path. We make sure to keep an eye on your child's progress throughout their time with us so they are making consistent improvements in their Spanish and confidence with the language.
Our online Spanish classes take place through Zoom – so we can use interactive features, your children can draw and write on the 'whiteboard', and we can play videos and music within the application so your children don't have to access any external content.
Your child's safety is our priority
We use the tightest security features and ensure that anyone entering our classrooms has to use a password and has to request permission. Once all children are inside the classroom, the classroom is locked so that no one else can enter. Our teachers are also required to provide a background check in order to work with LAE Kids. We take the safety of our students and families very seriously.
Individual Class
An individual class for 50 minutes, plus one off enrollment of €20.
This can be used as a trial class.
For absolute beginners and children 7 or under, we recommend a 25-minute class. For those with a higher level and aged 8 or over, we recommend a 50-minute class.
10x25 Pack
10 classes of 25 minutes*
20x25 Pack
20 classes of 25 minutes*
5x50 Pack
5 classes of 50 minutes*
10x50 Pack
10 classes of 50 minutes*
*All courses require a one-off €20 enrollment fee per student.
Native, Qualified Teachers
Native teachers, qualified in primary/secondary education, educational psychology and Teaching Spanish as a Foreign Language.
Structured Courses
Our classes may be fun and interactive, but they are all designed to adhere to a well-structured framework to ensure progress
Parent-approved
"My 6 yo son and 8 yo daughter attended in person while we were visiting Madrid and now take classes online with LAE. I could not recommend the school more highly. My kids loved their in-person classes (their only issue was that they thought the lessons were too short!) and their Spanish improved markedly. And now they love their online lessons. LAE's teachers and teaching method make learning Spanish so much fun, the kids want to do it and work really hard. Plus, everyone we have worked with at LAE has been incredibly kind and professional. It has been a wonderful experience all around."
– Becky, USA.
Sign up for our newsletter