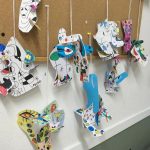 The possibilities are endless when it comes to crafts with kids and not only do they help stimulate creativity, patience and other fundamental developmental skills, it can also be a great way to introduce Spanish into your family.  In this blog, we'll give you some useful Spanish crafts vocabulary for kids, some ideas you can do, and verbs for you to use in a project-based pedagogy.
The learning of the second language must be based upon the use of interesting cognitive tasks that present an intellectual challenge to the students.
One of the things kids enjoy the most are crafts, and what a better way to introduce the Spanish language through it, they will love to learn the new words in a meaningful context!
List of most used Spanish nouns for crafts
Pintura de manos – Hand Painting
Hand painting awakens their artistic expression, creativity and imagination, enhances their self-esteem and stimulates motor coordination and fine motor skills of the hands and fingers, among many others. We've loved this idea to make different types of birds using their hands!
Palitos de helado – Popsicle Sticks
Making popsicle stick crafts is a perfect activity to enjoy at any age. In addition, they are very easy to find and decorate, since we can paint them with acrylic, watercolor or markers. Check these 100 popsicle sticks craft ideas!
Lana – Wool
Wool is a useful, cheap and fun material to entertain children with and it can be used for tons of crafty projects! Here you have 20 craft ideas with wool!
Purpurina – Glitter
It can be used to create and decorate cards, masks, drawings, and much more. Take a look at one of the most trendy craft ideas: Glitter slime!
Platos desechables – Disposable plates
With disposable plates, children can create animal masks, musical instruments, ornaments, and unleash all their creativity. Try out these Paper plate masks craft for kids!
Cartulina – Cardboard
Cardboard is thicker and stronger than normal paper, and at the same time more flexible than other types of cardboard. Decorating objects, making figures or developing creativity by coloring on them are just some of the possibilities they offer us. Your kids will love these cute toilet roll crafts!
Pompones – Pompoms
Crafts with pompoms is another of the activities that we can do in our free time. It is a very useful, cheap and fun material to entertain with children.
Cinta adhesiva decorativa – Adhesive decorative tape
One of the materials for crafts that is easier for us when creating is a decorative adhesive tape, a type of tape of Japanese origin decorated with colors and drawings of all kinds. You can decorate this washi tape owl!
Cuentas – Beads
We tend to think that beads are only for making bracelets and necklaces, but the truth is that they five much more of themselves that it seems. You can make a lot of different crafts and accessories! Take advantage of these super simple pony bead crafts for kids to decorate your home.
Confeti – Confetti
The confetti gives us the opportunity to do very colorful, fun and original creative activities.  Here you have an idea to use confetti to make confetti eggs for Cinco de Mayo, parties and Easter!
Pinceles  – Brushes
Painting provides great benefits the cognitive development of children. In addition, from the age of 2, they already have the capacity to begin to do brushstrokes. Want to get some inspiration? Check 40 simple and easy canvas painting ideas for kids.
Rotuladores – Markers
Painting and coloring are essential activities in early childhood education. It's not just about entertainment. These types of games educate and reinforce important aspects of the child's personality and way of being. Look at 12 marker art ideas to do with kids!
At LAE Kids we love to create crafts with our little Spanish students, find out some of our activities below!
List of most used Spanish verbs for crafts
| | |
| --- | --- |
| Cortar – to cut | Crear – to create |
| Pegar – to stick | Copiar – to copy |
| Colorear – to colour | Dibujar – to draw |
| Combinar – to combine | Imaginar – to imagine |
| Componer – to compose | Armar – to build |
| Doblar – to fold | Sombrear – to shade |
If you have found something interesting to add to this article, let us know and follow our latest news on Facebook!