Books are great to introduce your toddlers or kids to reading and stories that will stay with them throughout life. Even if there are no or few words, the story that the reader tells increases vocabulary and imagination. That's why we offer you a list of some of the best picture books to learn Spanish!
If the picture books are narrated in a different language it becomes a great motivation for children to continue learning it!
In his interview with El País, Richard Vaughan, expert in teaching English in Spain with 45 years of experience, noted that between the ages 3 and 12 children need to be exposed to native speakers as much as possible to learn pronunciation and listening, while enjoying the process. That's why our teacher Marta, expert in a therapeutic pedagogy and Spanish language learning, loves to tell stories during our Spanish classes with kids using picture books with lots of images and small amount of text.
Marta shares some of her favorite picture books by Spanish authors.
Teo
by Violeta Denou
Encourage kids to talk about a wide variety of different everyday routines in its numerous editions; Teo en el parque, Teo en la granja, Teo en la escuela, Teo viaja por España, Teo en tren, Teo y su hermana and more. It is a classic picture Spanish book, loved by lots of native-speakers.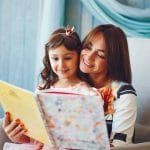 El monstruo de Colores
by Ana Llenas
This simple and fun story introduces children of all ages to the language of emotions. It had a huge success, and it is one of Marta's top choices when it comes to storytelling. It can help children practice vocabulary and also express their own feelings.
De qué color es un beso
by Roció Bonilla
This one is a great option to develop emotional intelligence in children. It is often used by parents and teachers to approach some of the more complex topics in a simple way, associating feelings with colors and introducing interesting vocabulary with a lot of attractive images.
La mejor sopa del mundo
by Susana Isern
The values of cooperation, solidarity and friendship are present in this Spanish picture book, with animals as protagonists. Also of interest, Susana Isern has another picture book called Daniela Pirata (more appropriate for a higher level Spanish student) that broaches the topic of gender equality in a fun and interesting way that will be not only educational, but also interesting for children.
Leotolda
by Olga De Dios
If you're looking for a story that promotes creativity and imagination in children, this is a picture book for your family! It is about a fantastical adventure of three friends and the power of creativity. The illustration and colors of the book are very special as well. This author also created Monstruo rosa, where the topic of diversity is developed in a beautiful and captivating way.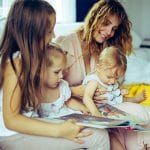 To work on improving kids' conversational skills, our teacher Marta recommends the collection of comics from the Mamut publishing house called Mi primer cómic. It invites children to invent and narrate the story, as it doesn't have text but a lot of illustrations. The books are amazing and at the moment you can find two of them: Barbosa el pirata by Jorge González and Olaf by Pep Brocal. These are Spanish authors, but the publisher has authors from others nationalities, that will be really interesting for kids as well.
These storybooks can work well for children between the ages of 4 and 7 that already know a little bit of Spanish.
Last but not least, Gloria Fuertes has played a big role in Spanish literature as an author of stories and poems for children. She's published numerous engaging books, but keep in mind that a higher level of Spanish would be required to really appreciate them.
Have you used any other picture books to learn Spanish with your family? Share them with us on Facebook or write us at info@laekids.com and we'll add it to our list!
You might also be interested in part 1 and part 2 of our Best bilingual books for children blog.
If you are looking to improve your family's Spanish, get in touch and see how we can help you achieve your goals.