Spain is the perfect country to go to restaurants and bars with children since it is part of the culture and everyone does it! But… how to have a stress-free experience and not battle with them to eat their food? Easy! Order some kid-friendly tapas and make sure they enjoy every bite. In this article, we will give you some ideas on what to order if you go out with children and make sure it is an amazing gastronomic experience. Here there are the Spanish tapas your kids will love.
Tostada con aceite y tomate (bread with oil and tomato)
Very simple, yet incredibly tasty! Almost every Spanish place has "tostas con tomate" in their menu and your children are going to love them. Not only they are super yummy, but they are also fun to eat since you get to put the oil and the tomato sauce on them and decide the amount you want depending on your taste. Teach your child how to do it and he'll feel like a little chef while preparing his tapa. You can also add some ham or cheese to it if you want to make it even more nutritious!
Tortilla de patatas (potatoes omelette)
 Definitely an all-time favorite! Tortilla de patatas is one of the most famous Spanish dishes and children love it. You can find several types, such as tortilla with ham, cheese or caramelized onion. Get them to choose the one they fancy most and make them part of the decision process.
Salmorejo
 This is a very typical Spanish cold soup and a great way to get your children to eat tomatoes! It usually comes with some crusty bread and ham on top and it has quite a soft taste and a nice texture that makes it friendly for everyone. You can order it together with a piece of tortilla de patatas and you'll have the perfect meal!
Croquetas
 We could say this are the Spanish-style ham nuggets and neither adults nor children can stop themselves from eating them when served. Basically, these are made of béchamel sauce and then fried. Inside you can find either ham, fish or spinach, among other things, and they are usually eaten with your fingers, something children love. Don't hesitate to order a ración and share it with your whole family!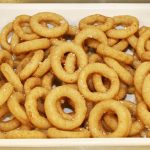 Aros de calamares (squid rings)
 Even though squid tends to be an acquired taste, there are plenty of ways that it can be cooked so it is more appealing to kids. That's exactly the case of squid rings, which come fried and they don't taste strong at all. Our recommendation? Get a ración to share and let your children enjoy seafood!
So, now that you know what to order for the little ones in the house, you only have to choose where you want to go! Follow us on Facebook and tell us what your plan is or check out our blog for more.