Attending a language camp can probably be one of the most memorable experiences for a child. Not only it means not staying at home whole days during the school break, but also getting to meet children from different cultures, opening their minds to different ways of doing things, and spending time with new people at the language camps. It is quite normal for them to cry on the last day… but can you be surprised at all? They've learnt about empathy, support, friendship, etc.
But… what if, on top of all of this, they could get to learn a new language while having fun? That's exactly what language camps are for: experiencing all the mentioned above while getting more confident in their second language. The great thing about it is that they use it in a natural way, just to communicate and bond, so it doesn't feel imposed.
Benefits of attending a language camp
Making new friends
When you are surrounded by children from everywhere and the only way of communicating is either doing mimics or trying to speak a second language, you will probably do both. And have a great time while doing it! Camps are a fantastic place for kids to meet other children their age and enjoy themselves in group activities.
Keep on practicing
Holidays are a must for kids, but the only problem is that they don't get to practice all the things they've learnt in the past months. But, are you going to give them homework? No way! Camps are the perfect way for them to keep on practicing a second language without feeling that they are still at school.
Positive association
There is a big difference between trying to remember 60 words of vocabulary or going on an expedition to discover nature elements in a second language. Camps encourage natural language acquisition, and kids learn without even noticing it, associating the learning process to fun, as we love doing it at LAE Kids' Spanish Summer Camp.
New games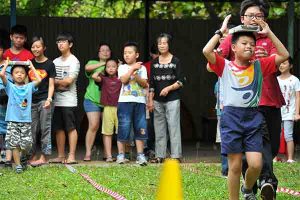 Don't be surprised if your child comes to you after camp and asks you to play a game in another language! During camp, they will learn several activities that they will love and will want to repeat. Don't let this opportunity go to waste and keep playing with them, and seeing if you can add more to the games as they become more proficient! Not only it is a great way of spending quality time with your child, but it is also a way of getting involved in his learning process. Sometimes, it even can help you learn a new language as well:).
Has your child ever been to camp? How was their experience? If you're planning on sending them to one this summer, be sure to take a look at our Spanish Summer Camp. Don't hesitate to contact us on Facebook or send us an email to info@laekids.com and we'll be happy to help you with any doubts you might have.