Children love cooking, especially when there are cakes or cookies involved. Baking or cooking in Spanish is a great way for them to learn tons of useful vocabulary, verbs and instructions without them even realising that they're learning.  Here is our essential baking vocabulary in Spanish so you can help your kids learn Spanish through baking and make precious memories while you're at it!
Ingredients
Here is a list with 25 basic baking ingredients and if you are in Madrid this blog will help you find the best places to buy them all.
Flour – harina
Rolled oats – copos de avena
Yeast – levadura
Baking powder – levadura en polvo
Baking soda – bicarbonato
Food coloring – colorante
Molasses – melaza
Cream cheese – queso para untar
Butter – mantequilla
Olive oil – aceite de oliva
Icing sugar – azucar glas
Cream – nata
Chocolate chips – chips/pepitas de chocolate
Peanut butter – crema de cacahuete
Cocoa poder – cacao en polvo
Vanilla extract – extracto de vainilla
Milk poder – leche en polvo
Orange blossom wáter – agua de azahar
Honey – miel
Egg – huevo
Cinnamon – canela
Salt – sal
Nuts – frutos secos
Nutmeg – nuez moscada
Shredded coconut – coco rallado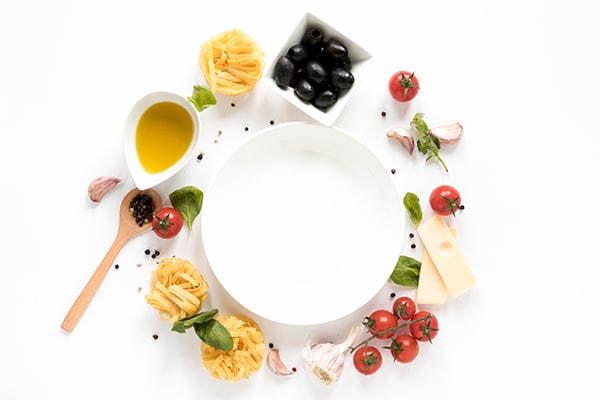 Cooking tools
In addition to the ingredients, it's important to have the right tools to prepare your recipes and make them look perfect. These are the most important kitchen tools that you will use to prepare your desserts and their translation into Spanish:
Mixer – batidora
Whisk – batidor
Spoon – cuchara
Knife – cuchillo
Strainer/Sieve – colador
Glass – vaso
Oven – horno
Cup – taza
Grater – rallador
Pastry brush – pincel de cocina
Fork – tenedor
Rubber Spatula – lengua
Kitchen Scissors – tijeras de cocina
Baking pan – molde para hornear
Rolling Pin – rodillo
Muffin Pan – molde para magdalenas
Parchment Paper – papel de horno
Citrus Juicer – exprimidor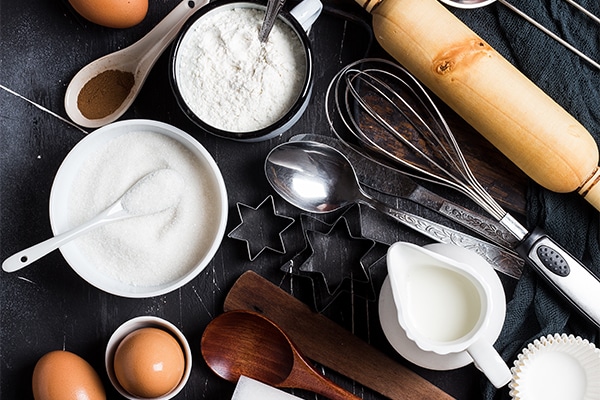 Baking verbs
After learning the ingredients and cooking tools, it's important to understand the recipes and verbs that are used in the field of baking. If you read a baking recipe in Spanish and you don't  know where to start, don't worry here is a list with the most important baking verbs that will help you prepare any Spanish dessert!
to cook – cocinar
to cut – cortar, picar
to bake – hornear
to fry – freír
to defrost – descongelar
to heat – calentar
to pour – verter
to measure – medir
to chop – cortar, picar
to season – sazonar
to mix – mezclar
to serve – servir
to chill – enfríar
to shake – batir
to mash – amasar
Can you think of other vocabulary you might need? Share it with us and we'll add it to the list! Visit our Facebook page and tell us which recipes are your favorites for both children and adults.