If you and your family are looking for free activities for kids in Madrid, look no further! One of the best things about Madrid is that there are lots of free activities for kids. Here are our favorite five:
History Museum of Madrid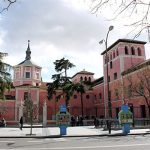 Would you like your children to learn about life in Madrid through games? The History Museum of Madrid welcomes kids to learn how people in Madrid lived, worked and had fun in other periods of time. Every Sunday, except during December, you can get in for free, although you might want to make a reservation so as to not be disappointed!
Where? Calle de Fuencarral, 78.
Metro: Tribunal
Workshops at the National Archeological Museum
Every Sunday you and your family can participate in workshops at the National Archaeological Museum. The activities are not guided but come with the necessary information and there is an instructor on hand in case of questions.
When? Every Sunday, from March to December.
Metro: Serrano
Storytelling sessions
In the library "Dragón Lector", located in Calle Fernández de la Hoz 72 and in calle Sagunto 20 your children will be able to enjoy an exhilarating story reading! They have storytelling activities for babies and older children and they also offer some bilingual activities so that kids get to discover literature in a fun way while improving their language skills. For more information, check out their website.
Temblo de Debod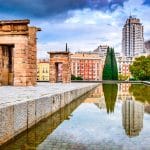 This temple was donated by Egypt in 1968 and is one of Madrid's most popular places to visit! If you are planning a nice weekend ouutdoors with your kids, Templo de Debod is a must! Here you will get to enjoy some of the most beautiful views in Madrid, enjoy a picnic and visit the museum inside, where your children will get to learn about the Egyptian culture. It's also right next to the Casa de Campo
Where? Calle Ferraz, 1, 28008 Madrid
Metro: Plaza de España
Firemen Museum
Would you like to see the different types of vehicles firemen have used during the past 400 years? Or see how their uniforms have changed? The Firemen Museum is the perfect plan both for children and adults, so don't wait any longer and go check out the different things they need in order to keep Madrid safe! Keep in mind that due to some renovations museum might be closed on some days before until January 2019.
Where? Calle Boada, 4, 28032 Madrid
Metro: Buenos Aires
Where are you going to take your children first? Let us know how the experience goes! Follow us on Facebook and leave a comment! Also, don't miss our post about the best museums for kids in Madrid!