Are you planning a trip to Madrid with kids, or maybe you're making the move to the capital with the whole family? Whatever your reason for coming to Madrid, you will want to find family-friendly activities so you can make the most out of this new city with your little ones. From gardens to theaters or theme parks, the options you have in Madrid and its surroundings are almost endless, so you will probably have a hard time choosing what to start with.
In this article, we have summarized some ideas to choose from so you can enjoy the Spanish sunshine with your kids and make sure they're entertained:

Open air activities for sunny days
Madrid is particularly famous for its vast green areas. The Retiro Park and Casa de Campo are two delightful parks to spend a day with the family. Their playgrounds, terraces and lakes make them the perfect places to cool down during the summer and to enjoy nature.
Pro tip: Don't just take a stroll around the parks, you can also rent bikes and boats and enjoy water sports in the parks so you can discover the parks in a different way.
Amusement Parks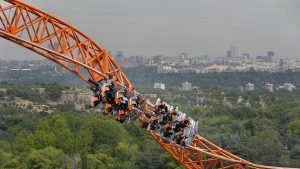 We all know that kids LOVE amusement parks and Madrid has one of the largest and most comprehensive theme parks in Europe: El Parque de Atracciones. It has everything your family needs to be entertained throughout the day: the most entertaining attractions, rest and recreational zones, fun shows and an area just for children ('la zona infantil'). It's the ideal activity for your children to run down their batteries!
We're not done yet… Madrid also has Parque Warner, located less than 30 km away from the center of Madrid, in San Martín de la Vega. There you will be immersed in famous cartoons and movie scenes while having fun on the roller coasters and water attractions or attending Hollywood-style shows and workshops for children.
And there's more! In the outskirts of the city, you will find the best park to cool down from Madrid's smothering heat. The water park Aquópolis is situated in two different places in the region of Madrid. Pools with artificial waves, toboggans, and mini slides for the younger ones, ensure a lot of fun for all the family members! The closest one is located 20 km away from the city, in San Fernando de Henares. (Three buses from Avenida de America take you there in approximately thirty minutes).
Wildlife Centers
Kids are infinitely entertained by animals and Madrid has a great center for children to discover and observe a wide range of exotic vegetal and animal species: Faunia.
Another option is the Zoo Aquarium of Madrid in Casa de Campo, which gathers 500 different species of animals from all five continents together in the same place.
Discover Madrid from the sky
A fantastic place to admire Madrid from the sky is the Faro de la Moncloa, in the heart of Ciudad Universitaria. The panoramic elevators in this former transmission tower will take you up 92m to its observation deck. From this viewpoint, enjoy a breathtaking 360 º views of the capital city and its monuments. (Remember though that it's closed on Mondays).
Other things to do with kids in Madrid
If you want to dedicate some of your time here to culture, besides Madrid's child friendly museums, like the Natural Science Museum for example, the cultural program is extensive and leaves an important space for activities specifically dedicated to the youngest audience. In different parts of the city, for example, theatres regularly program plays for kids. Click here to see the program of activities in Madrid for kids:
Furthermore, the cultural association Titirilandia manages a charming Puppet Theatre (Teatro de Títeres) in the Retiro Park. This free open air puppet shows bring together a large amount of Spanish and foreign families every Saturday and Sunday at 12.30pm. In summer, this place also hosts the Titirilandia Festival with shows at night to complete the program.
What to do on a rainy day in Madrid?
When the rain does show up, you might wonder how to keep your children entertained in a place that's all about terraces and parks! In San Sebastián de los Reyes (30 minutes from the center in public transportation), Micropolix is an ideal choice for when the weather isn't so sunny. Particularly suitable for children between 5 and 14, this 12,000sqm space reproduces a mini city in which kids become the citizens and learn in an entertaining way how a city and its community works. Children play doctors, police officers and teachers and earn and spend their fake money ('the Eurix'), can drive around the streets (after passing their driving test, of course) and bring this small society to life.
Spanish classes for kids!
Finally, to ensure full immersion into the country's culture and language, why not sign up for Spanish classes with the whole family? LAE Kids offers dynamic and personalized classes tailored for every member of the family, which combines learning and entertainment. Take a look at other families' experiences and contact us to create your own personalized program!
Can you recommend any other activities for kids in Madrid? Leave your suggestion in the comments section below.