We look forward to Santa's arrival all year long, but sometimes the build up and wait is a tad too long for those parents who have to entertain their children during the holidays. Even though there are plenty of celebrations that will fill in our diaries, it is always good to have back up plans in case the weather doesn't allow us to go out or if you just want to get into the Christmas spirit. Here are just some of the Christmas activities to keep your kids busy over the holidays.

In this blog post you will find several activities to make sure your children have the most magical celebration ever while, at the same time, they develop their artistic skills and help decorate the house!
Salt Dough Handprint Ornament: if you are looking for a fun, simple and glittery activity, then this is definitely it! All you need is flour, water and kneading.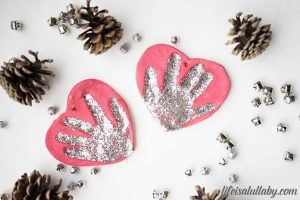 Put flour in a bowl, add water, knead for 10 minutes and then cut it in the shape you want with a mould. Once you have this, get your child to stamp his or her hand on it and then bake it for an hour. Once you take it out, put glue where the hand mark is and cover it with as much glitter as you feel like! Then paint all the rest and you are done! You have a new ornament for your Christmas tree. Piece of advice: don't forget to make a small hole before baking it so that you can hang it!
Popsicle Stick Snowflake Ornament: Even easier than number one, popsicle stick snowflakes will entertain your children for hours. In order to get started, get some popsicle sticks, rhinestones glitter, jute, pom pons and stickers. Once you have all of this, help your children put the sticks together in a snowflake shape (first make a cross, then stick two in diagonal) and then let them decorate them however they feel like!
Star photo frame ornament: Is there anything nicer than having photos of your loved ones hanging on your Christmas tree? With this activity, you'll get to create nice little frames for all those photos you love. In order to do this, you will need salt dough (we already explained how to make it!), 2 star cutters, gold acrylic paint, mod podge all in one glue and sealer, small photographs, and thread for hanging.
Start by rolling out some salt dough and then cutting out stars. You will have to use the big cutter to obtain the shape and the smaller one to cut out the middle from each star. After baking them, paint them with acrylic paint and once they dry glue the photos to the back. Add some thread and hang it on your Christmas tree!
Have you chosen yet which one will you try in order to start decorating your tree and preparing gifts? Let us know how it goes! Follow us on Facebook and send us photos of the results. Keep tuned. Merry Christmas!
References:
https://www.thebestideasforkids.com/salt-dough-handprint-ornament/
https://www.thebestideasforkids.com/popsicle-stick-snowflake-ornaments/
http://www.messylittlemonster.com/2017/11/diy-keepsake-craft-ideas-kids.html